My West Highland Way attempt got delayed, but it's now all systems go! It took an extra week to get over being ill at the start of January, but that may have worked out for the best.
Last weekend was the Strathpuffer 24 hour solo race close to the northern end of the WHW. My friend Mike Hall won (go, Mike!) and the conditions were pretty wet. I was supposed to be on the WHW that weekend and it would have been a brake-pad destroying mess. Thankfully, though, the forecast this weekend is good: cold and dry, maybe some fog and light rain. By Scotland-in-January standards, that's pretty awesome.
So, the bike is finally built up as I want it: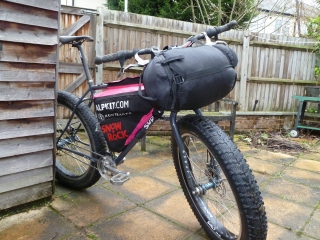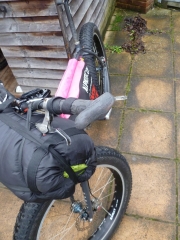 It looks nearly the same but has had many time-consuming changes:
New pawls + springs in the front wheels to replace ones borrowed for another bike
New bars/stem to get a decent width (685mm)
Bar ends (with risers, hah!)
New BB. These DH 100mm bottom brackets don't like going distance in mud!
New chainring/cog. Switched to 28:22 for Iditarod. I think it will be a bit under-geared for WHW, but it'll keep things steady
Mechanical disc brakes with 160mm rotors instead of 180mm hydraulics. Hydraulics don't do well with severe cold and I don't need whopping big rotors
All in all, it feels pretty good. The fat tyres should be good for the really rocky bits in the northern section (the only bit of the WHW I know) and for any snow/ice that might be around.
Kit-wise, I've gone for emergency bivvy kit on top of normal distance riding equipment. I've got about 12000 calories of food, plus usual spares and stuff, and then a big synthetic sleeping bag + bivvy bag. If I have to sleep the night up there, it probably won't be a good night's sleep, but it will be survivable. I've managed to cram everything into the frame bag (borrowed from Shaggy – I'm not sponsored by Alpkit, Bonty, or Snow + Rock – thanks, Shaggy!).
So, the plan is to drive up tonight. Stay in Glasgow overnight, and I'll set off at 9.00am on Friday morning. Updates on my Satellite Tracking page and on Twitter. Emily will be around in the car, but not to provide assistance unless in an emergency.
I'm pretty excited about this. I've had to put a lot of planning into the trip, and things are coming together nicely.