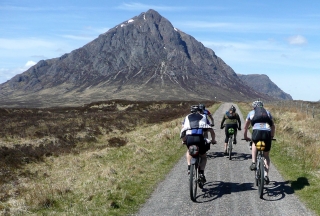 See also:
When I rolled up to the start line, I was still munching a bagel. After a traffic-delayed journey the day before, I had hastily thrown my kit together that morning. Now it was a relief to see so many friendly faces. Our little world of dirt-bag racing had hit Tyndrum and a bunch of guys (sadly the only two women entered for the race had to pull out before the start) with tales to tell were nervously chatting away.
People seemed surprised by the amount I was carrying. I was acutely aware that I didn't have the legs to just romp away with this, and my only chance to win would be through relentlessness. I was planning to be more aggressive than usual with the sleeping side of things and that often means losing the ability to maintain body heat. So I took plenty of clothes.
As usual, the start was just a shout of "Go!". The blue skies and sunshine were a surreal contrast to the worst-case scenarios and the weather forecast that boded ill for later on. For this moment, bleak mountains, raging winds, and snow seemed like they belonged to another planet.
The riding tempo out of the start was a little too high as we headed out on the West Highland Way. When the sun shines and the trail is good, it's nice to make the best of it. Nonetheless, I was huffing and puffing a bit in a loose lead group. The rattly drove road zipped lightly under our wheels. Fast-paced climbing became a fun descent towards the driveway for Glencoe Mountain Resort. Easy rocks and corners made for a flattering trail and an enjoyable introduction to the route.
The Devil's Staircase saw the effort of the lead group maintained. On foot, we pushed hard towards the summit and a rocky descent into Kinlochleven. I gave way to the first couple in the lead group, wanting to keep the descent controlled and not hold them up. There was little to be gained by hurtling down the rock steps, and a there was a high chance of walkers on this popular route. Even so, with tough tyres and the benefit of a suspension fork, it was a lot of fun working the trail back down off the mountain.
Pretty soon, the lead group was established as a four. Phil Simcock, Mark Goldie, Phil Richmond and myself. I could see that Phil S and Mark had me out-powered on the climbs. This was just what I had feared. Phil R was a bit of an unknown: riding strong, but claiming that he was just making hay while the sun shone and wouldn't be keeping up the pace after today.
I let Phil S romp away without trying to come back at him. For hours, I couldn't see him, and then he would be back in my sights. Since we were both on singlespeeds, I felt annoyed at myself whenever Mark got in front of me, but I didn't always have the strength to reel him back in. I was going to have to get lucky, sleep less, or just out-tough the pair of them.
When we rode as a group, it was sociable and miles were passing smoothly. Splits formed, and were later eaten up. I tried to keep a wise head on things and enjoy where we were. It was pretty easy to find that joy on fast-running trails with fine weather and mountains all around.
We reached Fort Augustus just before 8pm having made 100 miles in 10 hours despite some pushing sections. It was time to rehydrate, and I mostly ate food from my bike. I had carried that food 100 miles, I was going to make damn sure I ate it. While the others had spread their gear around a bit during the stop, I was constantly occupied: eating, emptying rubbish, refilling water, repacking. And I rode out of there ahead of the other guys. A little bit rude, but the stops are part of this kind of racing.
It was no surprise that Phil S and Mark caught me later on, and we travelled together into the twilight. Circling a loch on its pebble shore, spinning hard on the tarmac, zig-zagging along flooded trails, we passed the time with stories. Eventually, I realised it was only Phil I was talking to. I could see Mark's light way back on the hill, and moving like he was still riding. Maybe it was his asthma, or some stop to fiddle with his bike, but the lead group was down to two.
Around 4am, we took a bivi in the woods that play host to the Strathpuffer 24 hour race. I like to ride late and get up after the sun has had chance to warm things up a little. 150 miles in Day 1 felt like a very good total, and everything on the bike + body was in working order. With my alarm set for 4 hours, there was no difficulty in getting to sleep.