See also:
The alarm buzzed into my exhausted mind. It had a few layers to dig through, but eventually it found some kindling inside my head. A spark, and consciousness started to spread. I could feel the wet sleeping bag against my face – I had been too tired to actually pull it into the bivi bag the night before. Loch-side and pine trees were painted in muted colours, and I felt wretched. I had to smile a little, though. This was why I had brought the warm clothes. I was going to put all of them on, and after a couple of hours of riding, things were bound to look up.
The difficult part was getting from lying cold, tired, and hungry in a wet sleeping bag to being dressed and on the bike. Not only had I not zipped up the bivi, but I'd also forgotten to set some food within reach of my head for breakfast. Like a giant wet, sweary caterpillar, I hopped over to the bike and retrieved some carmel waffles. All too soon, I'd eaten them, and had nothing left to do but dress.
The moment I was out of the sleeping bag, the shivers took over my body. Hands, feet, teeth and chest were buzzing and clattering away as I methodically added layers. Everything I had worn in the night was soaked, but adding a fleece jersey, wool socks, and thermal longs made it more bearable. Squashing away my gear, and clipping it back onto the bike, purpose was returning to my bones.
Wind and rain met me as I finished the off-road from the night before. All the while, I was scanning for tyre marks in the mud. I had slept – what had the others done? Had they got the jump on me? I couldn't see anything conclusive. On tarmac, I pedalled hard to devour the easy miles. I was happy to overheat a little now – the sweat wasn't going to make me any wetter. Mile by mile, I was waking up and closing in on Torridon. I passed shelters that could have made for a better bivi last night, and worked my way around the mass of Beinn Eighe, feeling its gaze track my ant-like progress.
Soon enough, it was back to pushing the bike up over rock and water. Brief bursts on the pedals would surge me upwards, but there was too much trail still ahead to attack like that. The sun was finally breaking through, bringing the glen I had just ridden into a sharp foreground. Mountains sat out behind the glen, with snow and crag. Each one representing another adventure for another day. I looked back along the road, trying to catch a glimpse of following riders. Nothing. For now, the task was simple – push on.
I was more than ready to ride when the gradient finally relented. With legs ready to work at a different motion, I powered into a fierce wind. The glen was far behind now, and high country ruled. Up here, someone had dumped a mountain bike playground. Granite moulded into little bowls and curves was an invitation to throw the bike around and have some fun. Pumping the bike through dips and jabbing on power up little climbs, the fun was back in a big way. The wind that pushed weeds to one end of the loch up here was making me improvise lines, but there was space to play with. Skirting a second loch and still climbing, I could see the summit on my GPS but it still seemed far away on the ground.
Finally, the descent. But not rideable enough. Not right here, not right now. The trail had an unnerving habit of being fine, and still fine, and then suddenly pointy and deadly. Controlled and cautious, I worked down where I had hoped to fly down. With an easing gradient and better sight lines, I could risk more rolling and speed. Occasional stoppers meant I had to stay sharp, but progress was coming.
With that last bite, the savagery of this section was over. Miles rolled by uneventfully until Dornie and the chance to buy some real food. I scoured shelves laden with meat pies and rolls and sandwiches until I finally found something veggie and some chocolate milk. Staggering and stinking, I paid for the food. Outside, some guy in a hat was taking photos of my bike. Steve Heading – my rival in The Cairngorms Loop and EWE, a friend from hard miles and similar ambitions was here to see the racers come in. We chatted and I ate, fiddling with a few things that needed attention on the bike. Steve wouldn't tell me how I was positioned in the race as that might give me an undue advantage. Eventually, he did say that I had been the first rider he had seen in Dornie and he had been there for a while.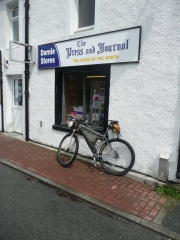 Happy to think I was in the lead, satisfied with some real food, and on the final miles (in truth, there were still 100 miles to go!), I started to climb out of Dornie feeling great. Andy Heading was a short way up the road, and I couldn't pass without stopping to chat. Andy had been one of the first people I had read about on the Iditarod Trail. We had never met before, but he had been part of the inspiration that had taken me out there and, eventually, brought me here.
The head of Glen Lichd was an extraordinary push. Extend you arms, brakes on, take a step. Repeat. Golden light, and folded terrain were at my back as I toiled. My mind was slipping into maintenance mode, the afternoon wore on with no urgency at all. Any progress was enough. When I misjudged a rain-bar and pinch-punctured my tubeless tyre, it was repaired from a seated position but only after taking time to eat. When my brakes pads felt worn, I took an age to swap in new ones. Rudderless, but creeping forwards, I longed for the trail to Fort Augustus to be easy.
It wasn't. The trail surfaces were good and generally rideable, but the climbs often exceeded my strength. To make matters worse, I had started to see tyre tracks in the dirt. Two sets of tracks, one with Ikons, one with what could be Racing Ralphs. Maybe Mark Goldie and Phil Simcock had teamed up. Maybe they had ridden through Dornie while I was eating. The tracks didn't wobble, and they weren't accompanied by footprints in places where I was walking. Through fiery coloured mud and thick moss, across rivers, up forest roads, their tracks didn't wobble as I failed to find the strength to ride continuously.
My mind was churning. Hours of thinking that I was going to win this race were shattered. I still had to get to the end in time for my canoe trip, but this was going right to the pit of my mental and physical reserves. Why couldn't Steve have told me straight-out that they had gone through? Next time I got to civilisation, I would get Trackleaders up on my phone and check the positions.
The tracks tormented me all the way through gravel climbs on service roads. I could only alternately between trudging on foot and heaving on the pedals. Looking back at the forest and mountains, the beauty of The Highlands was becoming emotional. Looking forwards, the task still appeared endless. Brake-cooking descents were the reward. Eventually, and after dark, the trail proved that it was not infinite. I rolled into Fort Augustus, picking up water from the tap outside the (closed) petrol station.
I phoned Emily to let her know that I wasn't going to make the start of the canoe trip in the morning. Maybe I would bivi before Tyndrum, but probably only for a couple of hours. When she told me I was doing well, I dismissed it. Third place wasn't enough. She told me that I was miles ahead and the tracks I had been following were from people who had cut the ride short and returned along the final leg. Remotivated, I hit the Great Glen Trail fast.
It was late and fully dark. The trail here posed no challenge other than the miles, but my brain was beginning to play tricks. All kinds of things were flying towards me out of the darkness. Fruit, stars, animals, toys. They tumbled past me. They tumbled right through me. Nothing seemed to be keeping my mind together and, as it unravelled, all I could do was pedal faster. The quicker I got off this canal and onto some engaging riding, the safer I would be. I was making good speed, but time ticked to the beat of hallucinatory camels rather than seconds on a watch.
Banavie came into view. Somewhere here, Emily was sleeping. A cat dodged across the road. I held my arms out and stretched my back. My stomach hungered for the 24hr petrol station in Fort William.
Whoever invented macaroni and cheese pies is a carbo-genius. I bought two of them from the petrol station, with some milk and some snack bars. All I needed was dinner and a few hours supplies to make it to the end. The shivers came back as I ate the pies on the forecourt. But I had a chance to look at the blue in the night sky. Up here, at this hour, light is not far away.
I planned to ride into the forest on the first section of the West Highland Way and see. Bivi if I needed to, or push on if it felt right.
It felt right.
I felt OK, I had a canoe trip to get to, and my sleeping bag was soaked anyway, so I rode. The sun rose as I climbed through the forest. Out of Fort William on fairly easy trails. I was disappointed to be pushing the bike when it looked rideable, but the legs said no. Not stopping was the main thing. Descending into Kinlochleven, I was heavy on the brakes and medium on the safety-first walking.
I knew that pushing over The Devil's Staircase was the last big challenge of the ride. I'd done it before, and there was no doubt that pushing was the only way. As I pushed, I saw two riders in full-face helmets sat back-to-back on the side of the trail. They had Go-Pro cameras on their helmets. They were going to have fun riding what I'd just pushed up. As I got closer, I smiled in their direction, then realised that they were actually a pile of rocks. Daylight hallucinations were coming in.
I glimpsed Glencoe and blue skies through my peripheral vision, but  the twisting trail down the Devil's Staircase took my full attention. A point of the hips was the only way to make the bike turn around the rocky switchbacks. Braking hard, rolling the rough stuff, it was 100% focus up here. Before long, the height was gone and all that was left was the jaunt back over what I remembered as rolling hills.
A guy in chinos and a white shirt was pushing an ice-cream cart through the heather on my right. He was going to sell a lot to the West Highland Way walkers. It was another daylight hallucination and there were more hills than I remembered between here and Tyndrum.
A burnt-out car lay on the left of the old drover's road. How did that get up here? Again, it was a pile of rocks and my mind was rebelling. The going was good on the trail, but I was easily distracted. The end was close enough to want to just teleport there. It felt like I had all the time in the world, and I was faffing around constantly. But little-by-little, I got there.
On the final trail into Tyndrum, there was no ceremony, no people at all. I rolled into town, cruising around a bit but finding no familiar faces. So it was straight to the Real Food Cafe. I was bewildered by being able to choose food that didn't come out of my frame bag. As I struggled with the decisions, I said to the man at the till, "Do you remember all those mountain bikers from Saturday morning? I'm the first one back." It was more of an apology for the lycra and the smell than a boast. "You'll be hungry, then," he replied. No arguments there. Just a big serving of curry and chips that started me back on the road to re-entry.
Thanks to:
Alan Goldsmith and all the reconnaissance riders for putting together the route
Steve Heading for the photos and still coming up when he was too injured to ride the event
All the companies that help me out with kit. It's all good stuff, I wouldn't venture out on rides like this with anything less.