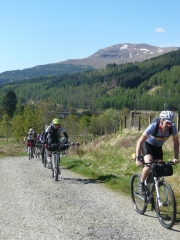 See also:
The Highland Trail Race is a 430 mile race around the Scottish Highlands. Although it is in the UK, the northernmost part of the route is about as far from London as Verbier in the Swiss Alps. The nature of the riding, the scenery, the whole environment is far remote from my local riding. And therein lay the attraction of the event.
430 miles over tough terrain is too far to go without sleep, but not far enough to need a long-term sustrainable routine. Like the 400 metres of bikepacking, this race was going to live in the uncomfortable gap between a sprint and a marathon.
Before the start, I tried to strategise through some of the unknowns. Organiser, Alan Goldsmith had revealed that the reconnaissance ride had taken 55 hours of moving time. That equated to about 7mph moving average, and implied significant hike-a-bike.
From the map, I could see that there was a decent amount of the West Highland Way and some road sections. This made the 7mph even more ominous. So, I abandoned the idea of predicting the time taken between two points along the route – some miles would be eked out slowly, some would spin by with ease. I decided to carry enough food for pretty much the entire route from day 1. In the past, I have pulled into small Scottish towns to find everything closed up with no options for food or sleeping. So, the aim was to be self sufficient within minimum reliance on resupply.
The weather forecast predicted hot sunny days, cold cloudless nights and, eventually, rain. That meant carrying a full set of gear from warm to cold and wet (see kit post).