Over the Easter weekend, Emily and I paddled the Devizes to Westminster Canoe Race. 125 miles, 77 portages, and no sleep. (Strava track here)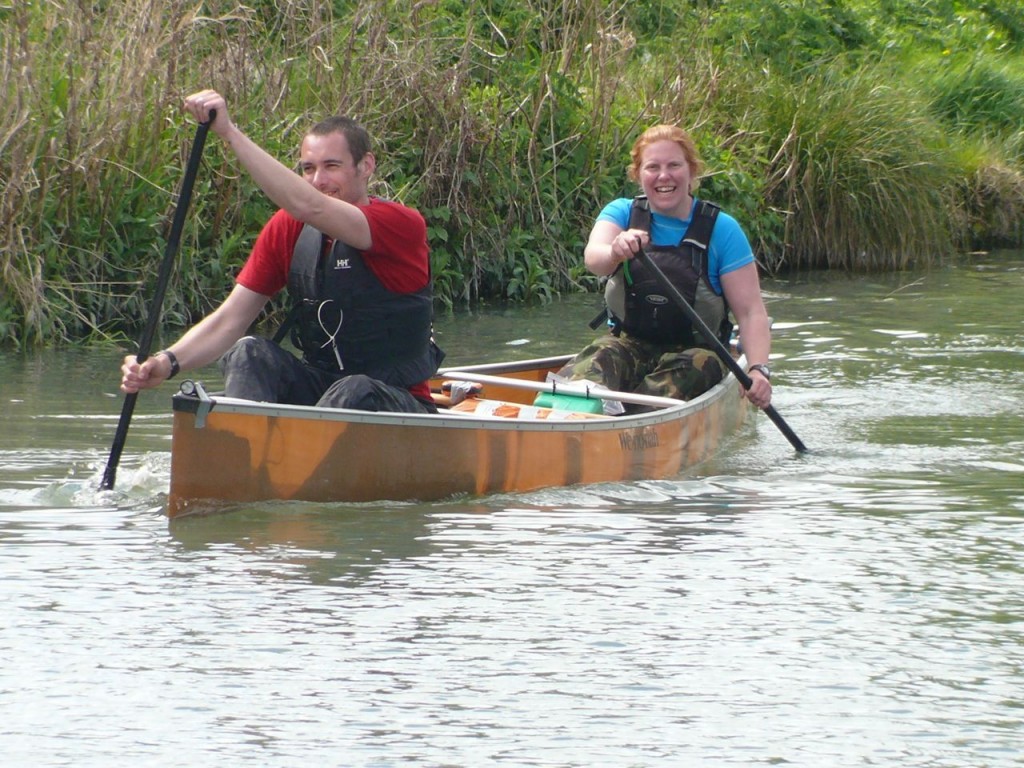 It was a whole different experience to racing bikes – a lot of it was type 2 fun (don't know what type 2 fun is?). Just going and going, and endlessly paddling. It took us 30 hours and 42 minutes to finish. We spent almost all of that time paddling, with no sleep at all (aside from the occasional head-bob during the night).
The Canal
From the start, there is 16 miles of uninterrupted canal along the Kennet and Avon. It's a peaceful amble though Wiltshire and we found ourself setting a nice pace. The new Ainsworth carbon paddles and the super-fast canoe that we'd borrowed from Geoff and Babs were making a big difference. Thinking all the way ahead to the first 10-hour cut-off, we were on a pace to get through with no problems.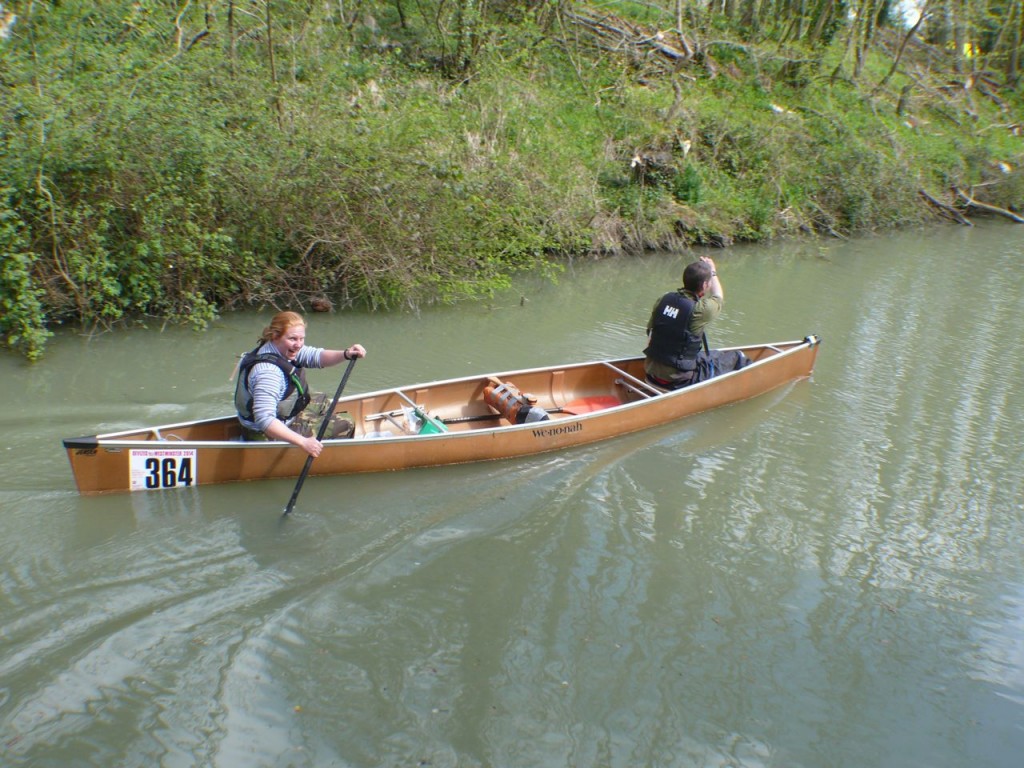 You can choose when to start (mostly between 7am and 12pm), and we had gone early. The long-term goal was to reach the tide at Teddington – if we missed that, it would be 12 hours delay to wait for the next one. So, throughout the day, faster crews (who had set off later) came past. Everyone was friendly, and many of them were from the armed forces.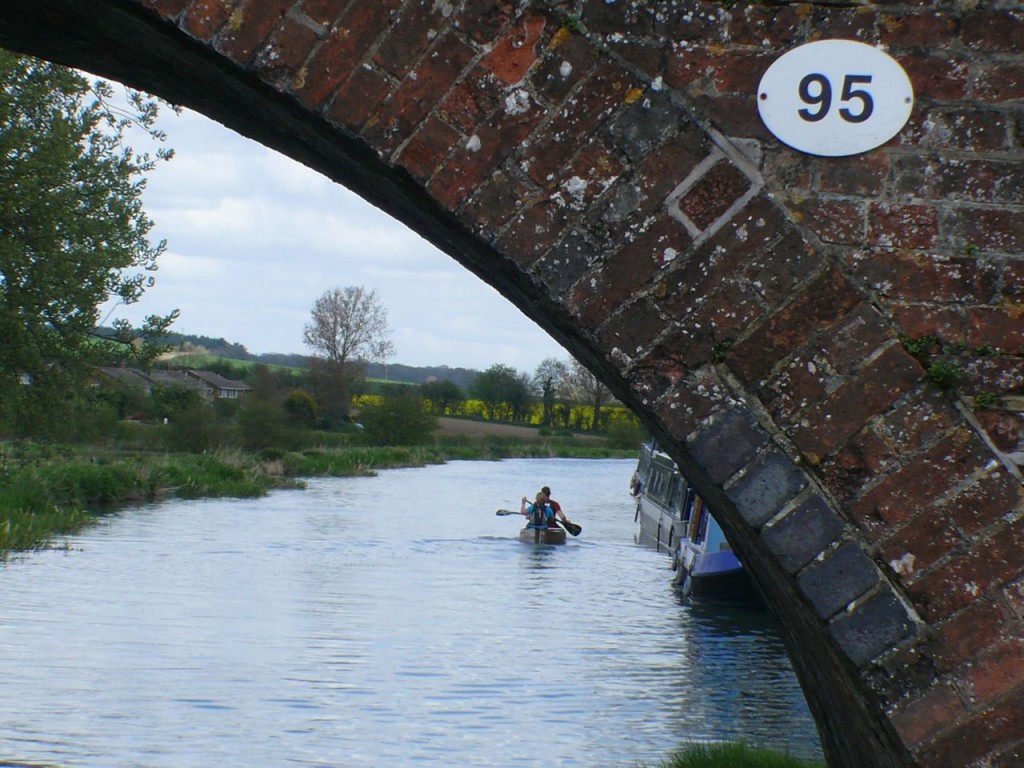 The Portages
One of the distinctions of the DW is the number of portages. With many locks to travel through, there is no time to go through like a canal boat. You hop out and carry the boat along until you can resume paddling. Our nearest canal (The Great Western, near Tiverton) has no portages, so we had practised by just getting out every time the canal went under a bridge. This paid off in the race, as we were pretty slick. Our good routine, and the open boat meant that we gained ground on kayakers during sections with a lot of portages.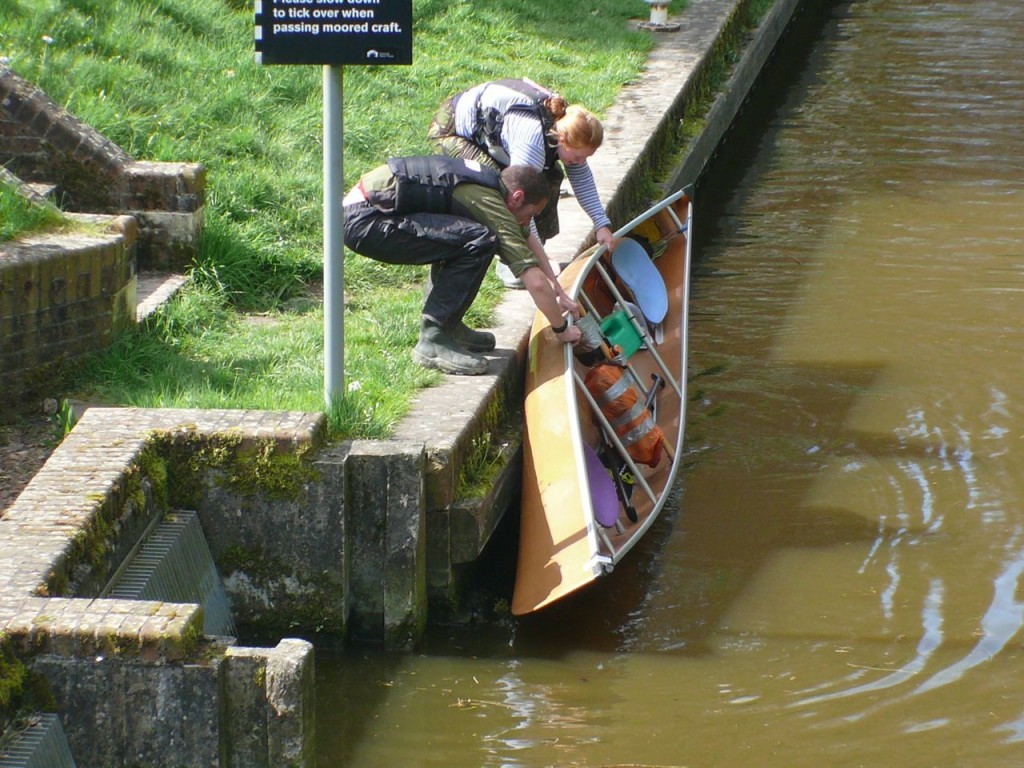 Portaging is also your best chance to eat. It is one of the things that is very different from biking: in the boat your hands are always occupied with the paddle; on a bike, it only takes a short stretch of easy trail to stuff some food in your mouth. So, once the canoe was out of the water, we would often grab a bite of food and chew as we walked. Emily and I both went for a bag of sweet (chocolates, candy, etc) and a bag of savory (oat cakes, pastries, nuts), so that we could mix things up.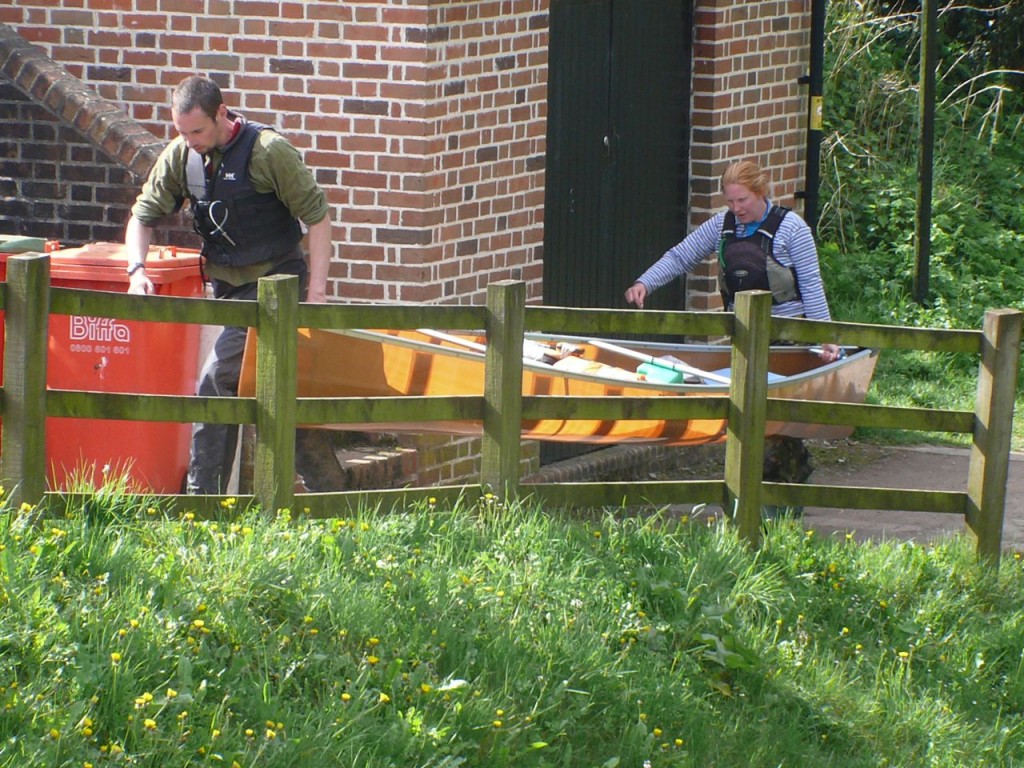 The Night
This was to be the first time that Emily had done an event through the night. It ought to have been something that I would be good at. After all, I've ridden through the night on numerous occasions. But it didn't work out that way at all…
Through Newbury and onto Reading, we enjoyed a red-skied sunset. In one horrendous portage, the entry was from a mud flat underneath a bridge. Emily had got into the boat first, so that I could push her clear in my taller wellies. As I stepped forward, though, the bank ended and I was suddenly up to my thigh in the river. With no solid edge, the only solution was an ungainly crawl back onto the mud. Fortunately, I managed this quickly enough that the river water had barely made it through my waterproof trousers and boots, despite being way above the boots.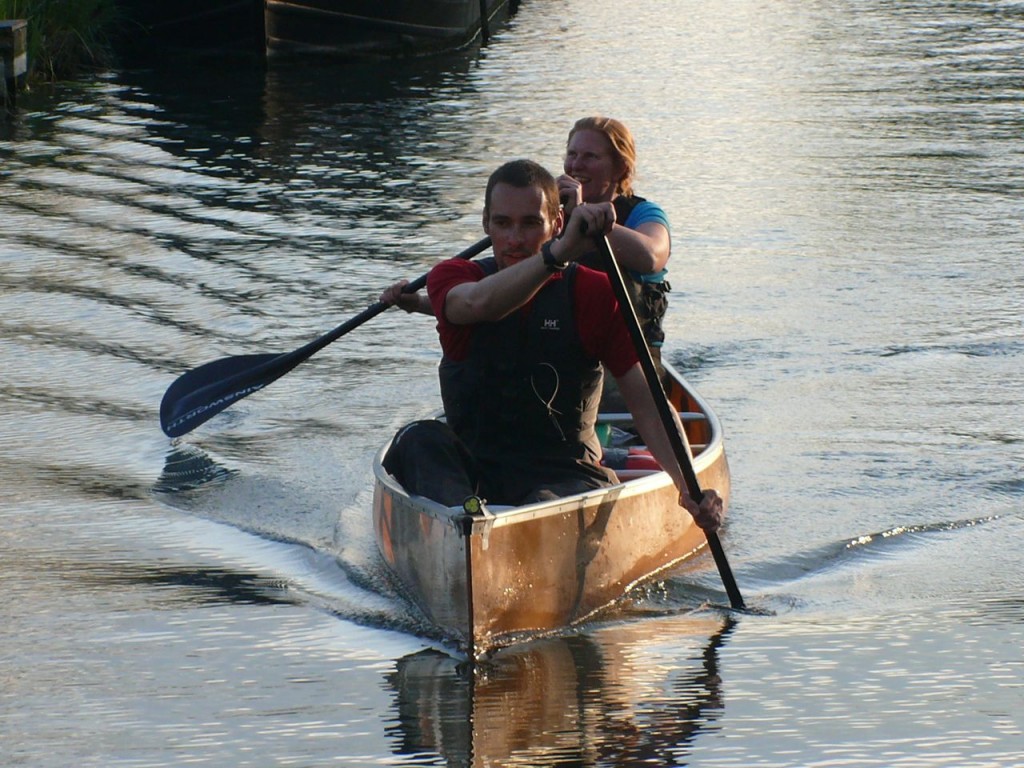 The real darkness fell as we came into Reading. We lit up with head torches and my Exposure Diablo bike light on the bow. But the bright lights of the town crowded them out with an orange glow. Above us, laughter chattered invitingly. The smells of food and clean people wafted down, but we slipped along silently.
Through Reading, we made it to the Marsport shop. This marked the point where we joined The Thames, and where we had made it through the final time cut-off of the race. We hoped to make it for the morning tide but, even if we didn't, we would still be able to finish in Westminster eventually.
Geoff and Babs had come down to see us with encouragement and DW cake (a rich, biscuity cake that Babs has been making for year and used on DW herself). So we took time to have our first real stop of the trip. Cold was creeping in, even on this relatively mild Easter, so it was time to dress up and press on.
It wasn't long after this, that I went to pieces. Muscles cramped up from the stop, joints decided to protest, eyelids and spirits fell. I kept paddling in some sort of fashion, while Emily seemed to stay strong. Caffeine pills and a little food did no good. By Henley, I was a real mess. So when we stopped, I had a big wodge of the DW Cake and a load of water. Suddenly the body started working again.
Time stretched as we peered into the river. Is that a channel over on the left? No, it's just a gap in the trees along the bank. What's that white thing on the water? Quick, go left! It's a reflection. There was a line of boats along the river, and you could often delegate the navigation to just following the lights ahead. But as the kayaks powered away, they would become hidden by meanders. Weirs would rumble from a nameless direction as we tried to find the channel. In one instance, I thought I could see the hi-viz of boats ahead of us and we started in that direction. Only to realise that the hi-viz was on the marker posts for the weir and a big red "caution" sign was on the edge of or view. None if it was really that dangerous in the end – we could always see in time to react – but the sense of dislocation was acute.
For a while, we kept ourselves awake by chatting. Eventually, I disappeared inside myself and couldn't chat. Paddling is so much less engaging than biking that my eyelids were drooping and my head dropping. We looked optimistically at the sky, bathed in lights from Marlow and Windsor, searching for a sunrise that was still more than an hour away. The distance travelled became irrelevant, the only goal could be to keep moving until the sun came up.
When I did look at the GPS, the news was bad. We had slowed down a great deal and were not looking likely to make the morning tide. Despite the strong flow of the river, we were moving too slowly.
As it always does, though, the sun did rise. And we were onto familiar territory. Food and sunlight brought some power back into our paddling and Emily predicted what times we would need to make at the next few locks. Suddenly, we were arriving ahead of those times. We zoomed past our club (Hampton Canoe Club), correctly taking the far side of the river to avoid rowers. Some of whom were actually encouraging us along. We could only wave and apologise to Carole and Clive who had come out at the club to see us past.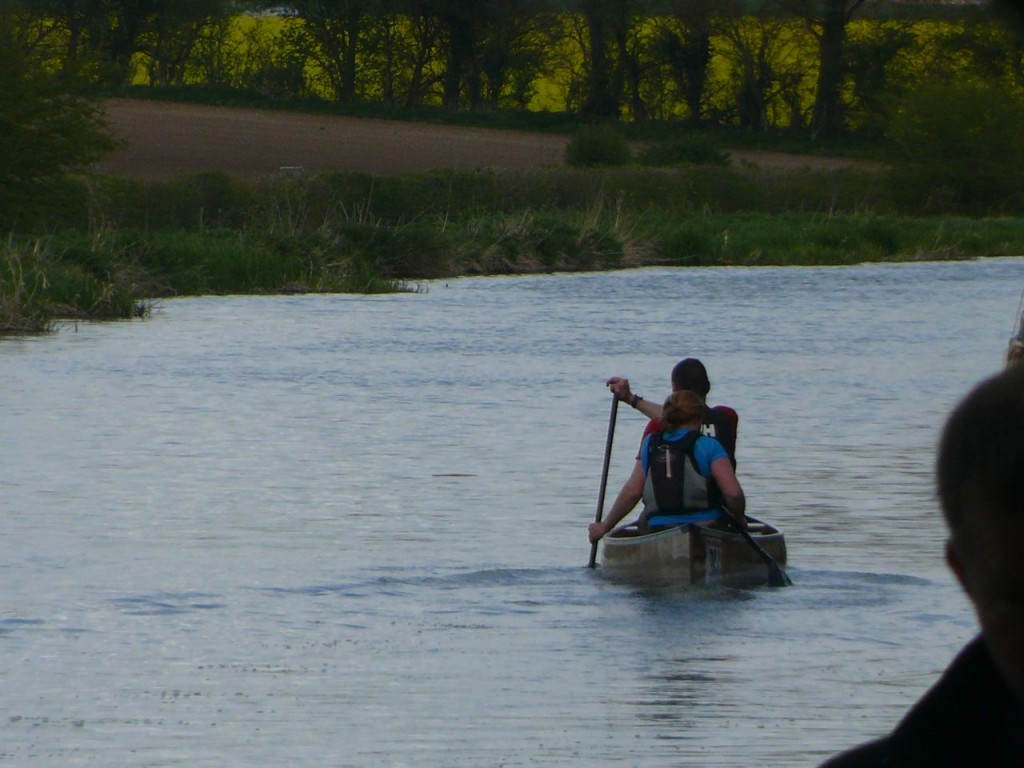 PS check out the super-stacked hands in the photo above.
The Tideway
We had made it to Teddington in the nick of time. The remaining 17 miles was still a fair paddle, but an atmosphere of relaxation descended on the little pack of boats. We all felt sure that we would make it now. We dipped our paddles in the water, we chatted, we let the river flow, and then the retreating tide pull us along.
But time and tide wait for no man. We were well into the outgoing tide, and soon it could turn against us. Spotting bridges and landmarks, the fatigue of the previous hundred miles took their toll. An hour in, we weren't relaxed anymore, but we weren't able to hurry either. Ferries passed, sending waves that slopped right over our bow and puddled water around my feet. Currents swooned around fixed barges, requiring caution to negotiate.
When one sideways current thew us towards such a barge, we had to power our way out. No problem but, afterwards, the kayak behind had disappeared. Emily worried and wanted to phone race control to check on them. So, we drifted while she tried to call. No answer, so we paddled on, then tried again. Still no answer. Eventually, a boat became visible behind us. We dallied around until it caught us: the missing kayak. They had just stopped to stretch out their legs.
We had not long moved on when we saw a kayak on the shore, with one kayaker too stiff to get out of their cockpit. They said they had called for help, but Emily wanted to turn around to be double-sure. They were OK, and took Emily's advice to get as far up the bank as possible.
Back on our way, the tide was hardly helping us at all and there were 3 miles to go. As Vauxhall bridge came into view, we were definitely fighting it. We saw more kayaks shored up, unable to make the last few miles. But there were safety boats buzzing around to take care of them now, all we could do was paddle on and try to get there before the tide overcame us.
Waves came in sideways, bouncing off the high walls of The Albert Embankment and hitting us unpredictably. Now we were in a fight. Fatigue was replaced by adrenaline and we were sprinting the final 1/2 mile. Despite all our effort, I could see 2mph of forward progress on the GPS. Moving forwards, not giving in, not slowing down. Westminster Bridge inched forward, the steps at the finish came into view, and finally – finally – we were in.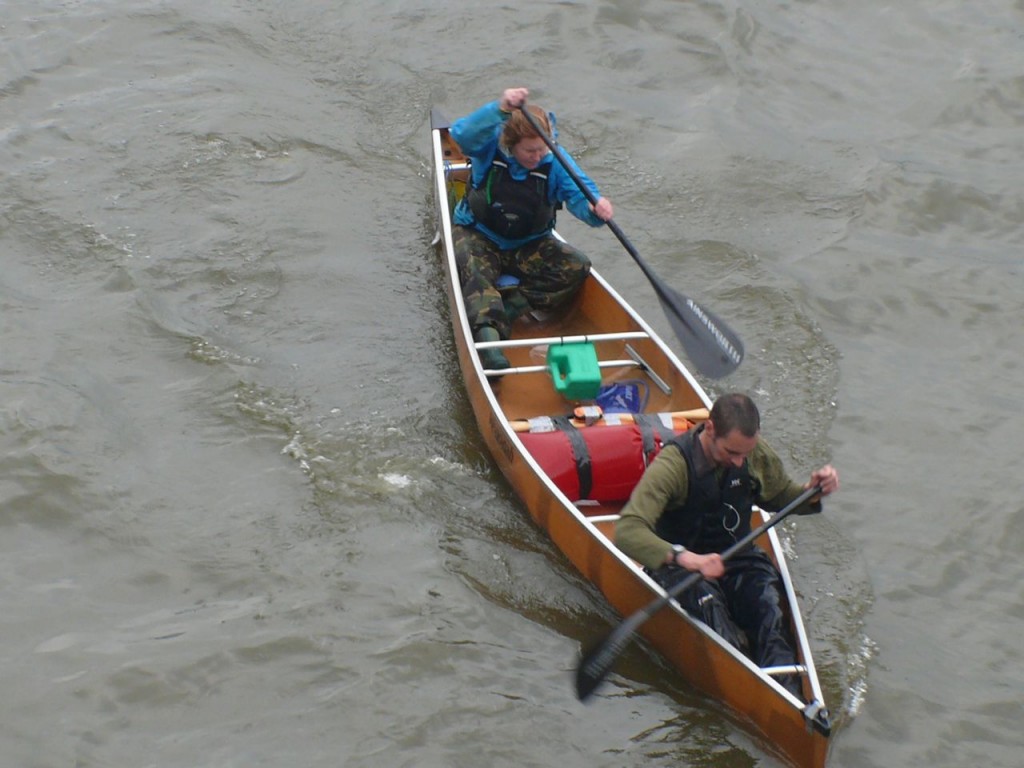 Massive thanks to:
Emily for organising pretty much everything, keeping us going, and being awesome.
Pete for supporting us and following along the whole course to be there with us.
Geoff and Babs for lending us their amazing canoe, for bringing us DW Cake at Reading, and for supporting us around the event as well.
Ainsworth Paddles for providing us with carbon paddles to use. When we went out with an array of different paddles, their new ones were undoubtedly faster and lighter than any other combination we tried. And they made storm-trooper helmets for Star Wars. It doesn't get any more geek-tastic than that.
.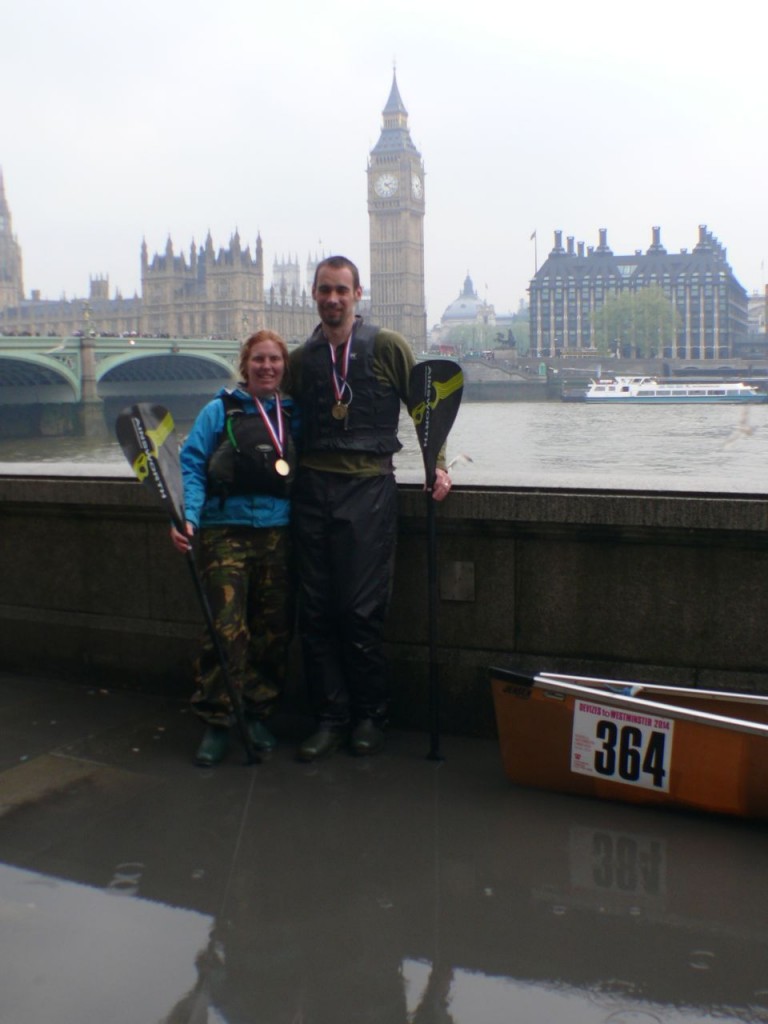 What's Next?
Of course, an adventure is not an adventure without a more ridiculous adventure in the pipeline. So, for our next canoe event, we'll be taking on The Yukon 1000.